Employers of labor for over many centuries have applied different methods to recruit their workers.
Even when owners of large farms sourced workers on their fields, they had basic requirements to look out for before making employment decisions.
Features such as physical fitness, agility, and endurance, amongst other skills, form the employment criteria of these farm owners.
Before the introduction of resumes and cover letters, man has always sought ways to make job recruitment as efficient as possible.
Today, the narrative has shifted from these seemingly informal job recruitment approaches to a more formal technique which involves a series of processes.
Right from the point a job application is made to the time the interview is conducted, an applicant is waltzed through strings of procedures that enable the recruiters or employers to make an informed decision on the hiring schedule.
Ever lost a job opportunity because of a badly written resume? Are you looking for a detailed guide that will walk you through the process of resume writing?
Look no further as this article promises to provide all the help you need with regards to landing that next job.
A resume, like every other requirement for a recruitment process, is quite significant as its role is beyond that of making an appearance, tucked in an envelope that is without creases.
It is the first point of connection you have with a recruiter, and its impression can either make or mar your chances of employment.
Sometimes, writing a resume for a job can be tricky as the temptation to push out every piece of information that would make you get the job can intensify with every stroke of the pen, but then we all know that a resume has just space for very concise detail.
Though there are some sections of the resume where you are allowed to be generous with your information, the need for precision and conciseness cannot be undermined.
So, how do you put together an outstanding resume for a job application? This will form the basis of the next section.
How To Write A Resume For A Job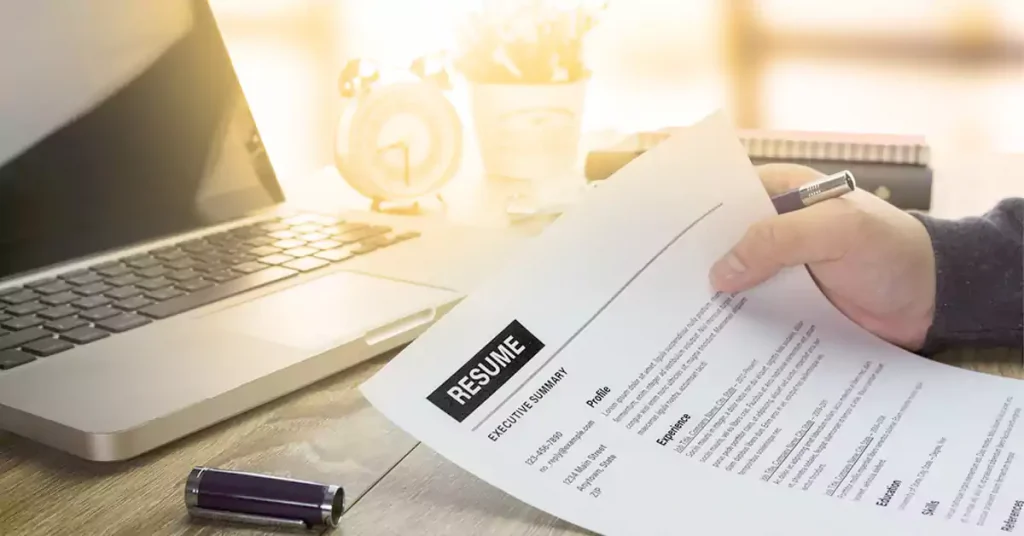 Writing a resume entails a series of steps, some of which will be listed and explained below for further clarity.
Select a resume format
Affix your name and contact information
Include an outstanding resume headline
Explain your professional resume in a summary statement
Add your work experience
Itemize relevant skills and keywords
Enlist your education, certifications, and any other essential detail
Align your resume to enhance employability
Use dictions that resonate with a resume
Select A Resume Format
An applicant should never assume that a resume must be accepted in whatever format it is written.
These formats serve as a tool for an applicant because it enhances the achievement of an efficient resume. Though all the formats are acceptable, they can be tailored to fit different application needs.
There are three major formats for resume writing, and they include
Functional Resume Format
This is a basic resume writing format that emboldens the relevant job experiences of an applicant by showcasing their abilities and skills. It is a great template for new applicants because it minimizes an outright display of work experience.
The odds with this type of resume format is that many recruiters do not appreciate it because of the lack of work experience, but as a fresh applicant, this method gives little room for that and might work to your advantage if properly utilized.
Chronological Resume Format
This is the most familiar resume format for recruiters as it gives a structured view of an applicant's details in the most presentable way.
As the name implies, it is chronologically arranged and highlights career achievements and relevant job experiences.
This is very suitable for applicants with years of experience or professionals in a particular career field.
The chronological resume format might not serve the interest of a new applicant because it exposes the gaps in employment and does not really place emphasis on skills and abilities.
Hybrid/Combination Resume Format
This style of resume writing is a composition of the functional and chronological resume format because it puts together the best features of the two resume writing formats. It is the most preferred resume format as it does not give room for lapses.
Every detail required on a resume must be provided in this format hence the adoption by most applicants with skills, experience and career achievements required by recruiters.
Affix Your Name And Contact Information
In this place, an applicant should make some basic details available to the recruiter. It is worthy of note that no alias should be used here as the main objective is to present the resume in the most formal way possible.
In this section of the resume, details such as;
Name
Phone number (personal and not office line)
Location (city, state, and zip code)
Email address
Linkedin profile URL
It is advised that the details provided by an applicant in this section should be exclusively owned by the applicant as the use of another's detail could jeopardize the chances of being contacted by the recruiter.
Include An Outstanding Resume Headline
This headline could almost pass for a tagline as it is a brief description of your employable skills.
The unique proposition enshrined in your job experience should be highlighted here.
Are you a risk assessment manager with a long stretch of work experience or a data analyst endeared with strong tech skills, then this is the opportunity to have some bragging rights because most recruiters scan a resume for this section.
Take advantage of the catchy phrase to decide if the detail on the curriculum vitae is worth the read.
This section swings in favour of professionals or applicants with experience and skills that are relevant to the recruiter. It is not a fantastic option for new applicants as they have little or no experience to display here.
Explain Your Professional Resume In A Summary Statement
A professional summary statement is a brief introduction to the unique professional skills that put an applicant in the spotlight for intending recruiters.
Just like it was earlier mentioned in this article, a resume is an indication of intent for a job, and every applicant must seize the opportunity to make this count.
The summary statement is often written just below the name of the applicant, with emphasis on the job role.
It can be expanded to contain the applicant's skills and years of experience, but the caption should be like a bullet point, summed up in a few words. Here is an example of a professional resume summary statement.
DAVID ROCKFORTH
Texas, California 97101. (444) 444-2341. davidrockforth@gmail.com.linkedin.com/in/davidrockforth
Software Programmer With 7 Years of Experience In Software Engineering
Certified software programmer and database analyst
Over seven years of experience in software engineering and database management
Promoted workplace strategic advancement technique and enhanced inclusive teamwork disposition
Tips
Ensure your resume is summed up in a few words. Use resume keywords
Be specific with your relevant skills. Do away with information that is not necessary
Include your most favourable impressive achievement
Let the resume reflect keywords from the job description
Add Your Work Experience
This seems to be the highlight of the entire resume as the eyes of most recruiters settle on this part, darting across the entire page to ascertain the credibility of an intending employee.
Therefore, an applicant should include the work experience that aligns with the applied job role.
You cannot have the work experience of a creative writer and then apply for a back-end programming job; that is a recipe for job application dismissal.
The work experience should be written in reverse chronological order with these features;
a) Name of the company
b) Job location
c) Job title
d) Start and end date
Itemize Relevant Skills And Keywords
The skills that should be included here should be in tandem with the job you are applying for, leveraging on the keywords from the job description to reiterate the relevant skills you possess.
Enlist Your Education, Certifications & Other Essential Details
Take the time to add your educational degrees or qualifications. It can be written from the basic educational qualification to the ones received from an institution of higher learning.
The educational qualifications or degrees can be written in this format.
a) Name of institution
b) Degree
c) School location
d) Years attended
Awards & Certification
Institutional accolades and badges can be displayed in this section. This can offer an applicant a competitive edge, promoting the chances of being employed.
Align Your Resume To Enhance Employability
The ''one resume fits all'' idea is not acceptable for a standard resume because a resume should be tailored to meet specific job descriptions.
An applicant is advised to visit the recruiting website to understand the requirements enlisted for the job.
Inasmuch as a resume helps convey an interest in a job, the chances of securing a job can be thwarted with a badly written one.
Use A Diction That Resonates With A Resume
There are resume keywords or words that are preferred in their context. An applicant should avoid the use of slang and uncourteous language in this regard, as the main objective is to present this piece of information in the most formal way.
Conclusion
The push for career inclined approach to work has compelled many recruiters to be very specific with their job roles; hence applicants must learn to flow with the tide, as the chances for securing a job is not hugely dependent on the content of the resume.
Also learn how to prepare for that interview after you have prepared your professional resume.