Reasons Why Career people are moving from New York to San Francisco
The affinity to have, hold and enjoy an atmosphere of goodwill is the desire of every man.
This stems from a place of provision for comfort, safety, and general well-being. The search for better settlements led the early man to keep shifting grounds in a bid to find something that resonates with his sense of commitment to his welfare.
The transition from one place to another in search of opportunities for career advancement and a better shot at life has increased as many people have continued to seek ways for profitable horizons.
Even if it borders on relocating from one state to the other or from one country to another, all that is considered is the search for greener pastures.
Though the grass is not always greener on the other side, a view of the grass from close quarters will determine how nourished it is. So, it is not surprising to find people thronging the streets of other states with a thirst for fulfilment and career satisfaction.
New York City is the central hub for business activities in the United States, densely populated with varying career opportunities. It is the centre for international diplomacy and holds a baton that swings in diverse directions for activities such as fashion, entertainment, commerce, technology, education, politics, tourism, and several others.
New York City, though surrounded by so many futuristic features, seems not to be the ideal place for the career pursuits of several individuals.
Then, why do so many business and career enthusiasts move from New York to San Francisco? Why the clamor for career adventures in San Francisco?
Perhaps, a keen look at the features which makes San Francisco spectacular with an environment that supports businesses might help us understand the reason for this choice.
According to research, San Francisco holds the top spot as the happiest city for people launching their careers. It was also ranked the overall best for worker satisfaction.
San Francisco is a city in California, the third-largest and most populous state in the United States. The city plays host to four of the world's fifteen largest companies, a statistic derived by taking stock of each company's market capitalization.
The ever-enterprising city is home to the Silicon Valley region, a place that is highly recognized for its technological affiliations and inventions. San Francisco is the headquarters of lucrative companies such as;
· Airbnb
· First Republic Bank
· Uber
· Twitter
· Dropbox
· Block
· Levi's
· Salesforce
· Wells Fargo
· Facebook
And several other enterprising firms are found within the terrain of this metropolitan city. The reasons for making this city an option for career pursuit vary from person to person, but we will be looking at ten common reasons why people move from New York to San Francisco.
You can also find out why San Francisco is so highly rated.
Top 10 Reasons Career People Are Moving From New York to San Francisco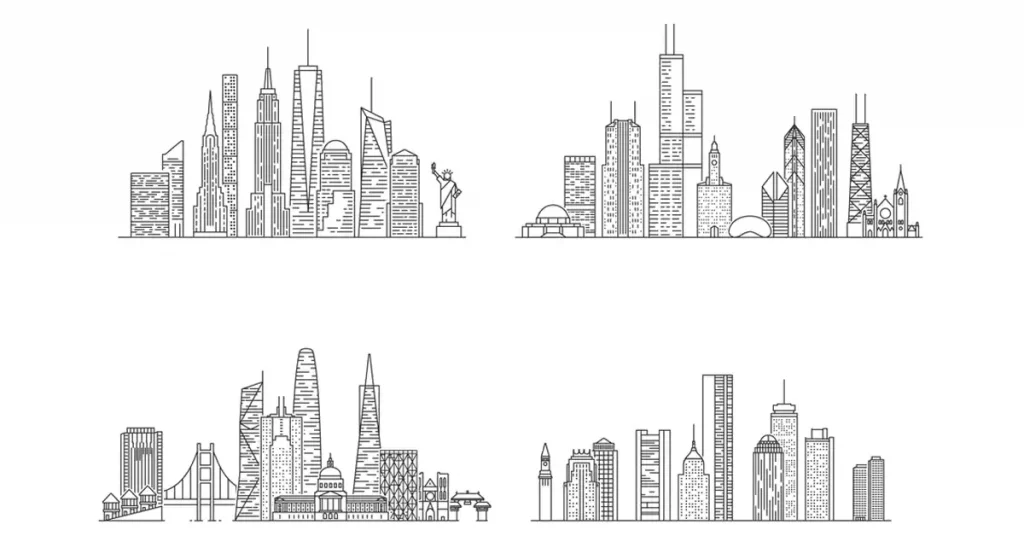 Thriving Workplace Ethics
Career Advancement
Easy Commuting
Tech Sector Hub
Entrepreneurial opportunities
Business Hub
Low Unemployment Rate
Great Scenery
Startup Accelerator integration
Good Salary and wage remuneration
Thriving Workplace Ethics
As earlier mentioned, San Francisco is one of the happiest cities for career people, and the parameter for this assertion is based on several factors gathered from various firms and establishments.
Working in a firm where there is suitable workplace ethics can spur growth and efficiency. So, to score a point as being the happiest city for career people simply reiterates the fact that the city has great regard for workers' welfare, job equality, and great worker satisfaction.
A toxic work environment plagues the mind and dampens motivation for work activities.
Upholding good work practices for the well-being of staff has mutual benefits as the company and the members of the staff share in the dividend that accrues due to this effort.
Several career people move from New York to San Francisco because of work benefits, and this is seen in the salary structure of the workers in the city.
According to the US Bureau of Labor Statistics, San Francisco has an hourly wage of $39.35, a figure that is 45% higher than the nationwide average of $27.07 and has area employment that is more concentrated in terms of the occupational groups than other states in the United States.
The city is the hub for tech-savvy folks, a place known for its technological flair.
Career Advancement
Growth and changes are significant aspects of life as it has been used as a yardstick to either measure the success or failure of a person, place, or process. Enhancing career advancement sharpens skills and intuition, helping the worker become more productive and result oriented.
The city is home to top tech companies and industries that are renowned for good workplace practices, which include good salary structure, career opportunities, and great welfare packages.
This is one of the key factors why many career people are moving from New York to San Francisco.
A workplace with room for career growth promotes resilience amongst members of staff and encourages enthusiasm and productivity.
San Francisco has a plethora of establishments that understand the benefits of good workplace practices, thus the application of methods that accommodates staff effectiveness and accomplishments, personally and professionally.
Easy Commuting
Some cities do not have a planned structure, especially for commuting. Everyone knows about the early morning rush to work and how being stuck in traffic can interfere with your clocking in at work.
San Francisco provides a good route for easy commuting to work, one that can be done even without a car.
It is known as the best city in the country where one can live without a car, and for workers living on a budget, it is the best option as money that can be used for the purchase and maintenance of a car can be directed towards other expenses.
Tech Sector Hub
It is no news that San Francisco is akin to technology as it plays host to several top tech giants in the world. The reasons are not far-fetched as it has a bearing that resonates with its close call to Silicon Valley.
It shares proximity with Silicon Valley, a region in Northern California that is known for its prominence in technology innovations and productions.
This has created a tech synergy across the board as many employees of tech corporations like Apple, Intel, Tesla, Google, and Salesforce are residents in San Francisco and commute to work through shuttles provided by their firms.
The prevalence of this technology hub has compelled a lot of people to move from New York to San Francisco in search of opportunities that will hone their skills or fast-track their careers.
Today, digital innovations are the wheel driving many business sectors as the world is gravitating towards a more virtual workplace.
The Covid-19 pandemic caused a shift in diverse directions because acceptable norms were challenged, and the man had to find a way to integrate and adapt to the change.
The clamor for no physical contact saw the close of several businesses, while the enterprising ones saw an opportunity and harped on digital platforms that made their businesses available to their teeming customers even during the pandemic.
The city of San Francisco has major tech company headquarters in its domain, and we all know the inclination toward technologically engineered devices is gaining ground hence the upscale in the establishment of many tech industries.
Companies such as Instacart, Salesforce, and Lyft have their headquarters strategically positioned in San Francisco, and with every passing day, there is one tech startup or the other in this city, an attestation to its techy affinity.
In 2011, when Mayor Ed Lee came on board, he gave a temporary tax waiver to several tech companies, a scenario that saw the relocating of many tech firms from another city to San Francisco and a gradual build-up of tech startups.
The companies enjoyed a tax waiver of 1.5%, and this opportunity strengthened the city's technology commercial recognition.
San Francisco is a city for tech-savvy residents as many individuals are caught in the wild frenzy of digital adoption and acknowledgement. It is home to several local startups such as Span, Sisu, and Pathstream. These are Tech apps that are currently driving digital innovation in electricity usage, cloud-based data analysis, and software education.
Diverse cloud computing firms are emerging within this bay terrain as the city was recognized in Forbes's cloud 100 lists in 2020. It has a growing technology attraction, the rationale behind the reasons for many tech enthusiasts moving from New York to San Francisco.
The city's appreciation for technological innovations has spurred the development of local tech-focused universities to further encourage youths and more entrepreneurs to pursue degree-related courses to enhance their skills and sharpen their tech wits.
This development has made an impact on the population of youth residing in the city.
According to a survey conducted in 2020, San Francisco has about 37.5% of its residents between the age of 25 and 44 years, while 25.9% are between the ages of 45 and 64 years and 13.6% within the age of 65 years.
This leaves the average age of residents living in San Francisco at 38.5 years, an age quite youth and vibrant for career pursuits in tech-related areas, another good reason for moving from New York to San Francisco.
Entrepreneurial Opportunities
A city with a prominent tech feature presents entrepreneurial opportunities for its residents. The presence of established tech companies, startups, and a growing economy is a hallmark of a career development trajectory.
A place like San Francisco beckons with a hand laden with opportunities, and every intending entrepreneur is sure to make a mark within its territories. The presence of career growth and entrepreneurial opportunities prompts many career people to move from New York to San Francisco.
Business Hub
The performance of tech corporations such as Facebook, Salesforce, Tesla, and several others is evidence that the city promotes, projects, and supports business growth and development.
Why do several of these tech giants recognized across the globe choose to have their headquarters in San Francisco? It is a city that is known for having policies that embrace the sustainability of business ventures and work alongside the organizations to ensure they thrive.
Low Unemployment Rate
According to the United States Bureau of Labor and Statistics, San Francisco has a higher employment rate as its area was known to have more concentration in 7 of the 22 occupational groups in the country.
The city also has the highest average salary for a worker per annum as it pegs its annual salary earning at $104,000.
An interesting figure, I guess, one that is sure to drive any person to seek career pursuits.
It is no wonder that several career folks are moving from New York to San Francisco because a city that has a growing population of youths and a constant relocation of people from other cities is a recipe for business boom and career advancement.
Great Scenery
The city is known for its remarkable sceneries as it holds the trophy for one of the cities with the greatest bay region. It is graced by the golden gate bridge, a majestic composition of engineering skills and architectural ingenuity.
There is a stretch of cable cars that helps visitors and residents explore the city better from great heights. The beautiful Alcatraz Island, lush with vegetation and nature's gifting, pays homage to the beauty that San Francisco holds within its walls.
A good number of parks for pet walking and relaxation, a great way to unwind after the day's toil.
Startup Accelerator Integration
The increase in tech firms has caused a complimentary demand for a tech-savvy workforce. This phenomenon has led to the emergence of startups by either young university graduates or tech enthusiasts.
Firms such as Stripe, Databricks, and Asana are startups that are breaking grounds in technological innovations because the city has made the environment conducive for businesses to thrive.
There is room for networking as many tech launches are organized to incorporate networking and collaboration opportunities. These have driven many folks to move from New York to San Francisco in a bid to leverage these opportunities and have a better shot at career advancement.
Good Salary And Wage Renumeration
The city has one of the best salary structures for workers. Laden with a lot of tech-inclined jobs such as software engineers, database developers, project managers, and a host of others.
It is a city that is densely populated with tech-savvy individuals, a career that has well-defined payment packages and remuneration, thus the inclination toward this career path.
It is also one of the reasons why several people are making transitions from one city to the other, especially those moving from New York to San Francisco.
Conclusion
New York is attractive to prospects however, the city seems to be jam-packed. You are better off starting your career somewhere else. Speaking of which, find out find out the top careers in the world.